Fifty-somethings are the new Middle-aged.
Many artists, writers and philosophers have been inspired by the human life cycle and have presented the various states from birth to death in their own way. One such was the Renaissance artist Titian, who 500 years ago painted his The Three Ages of Man.  Titian looked in allegorical terms at childhood, manhood and old age. This was a time when old age was all about approaching death, but that is no longer the case. I believe it's time to reassess and to insert a new stage in between 'manhood' and old age.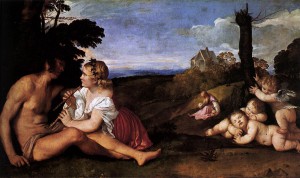 Fifty is the new middle-age. Just a decade ago, anyone entering their fifties might be thinking of slowing down. It was time to embrace the elasticated waist and the plaid slippers as you began the more sedate Autumn of your life. Things have moved on since then and our traditional view of old age needs to be challenged. The first stage has always about you as a child. The second is the stage of responsibility, with you as a parent. The third stage was usually about you as a grandparent with one foot in the grave.
Of course you may well have reached your fifties and become a grandparent. You could, however, just as easily be the parent of a pre-school child or of a bunch of teenagers. Alternatively the kids may have flown the nest, or they may even have done that and then returned home again. The cost of living, particularly the cost of accommodation, means that huge numbers of twenty-somethings continue to live at home depending on the Bank of Mum & Dad. Cultural changes mean that you may be in a long term relationship, but you are just as likely to be on your second or third marriage. You may have chosen the single life, or you could be back in the dating game.
The biggest changes to contemporary old age are longevity and improved health. With people now living to ages well in excess of eighty, that one foot has been pulled back out of the grave with the prospect of another thirty years or more still to come. Improvements in health and social care mean that we are fitter and healthier in our fifties and now much more in control of our own latter years.
Many fifty-somethings are starting new ventures. Not only are most still working, but this age group are the fastest growing group for new business start-ups. Even in these austere times, this extended employment leads to greater spending power too.
We are swamped with information about how to stay fit and healthy as we grow older, but since we are thinking in terms of mindfulness here, it is your mental well being that I want to look at. If the first stage of life was about you being a child and the second stage was you as a parent then I think the third stage must be about you being you.
Whatever else is going on in your life, whether it involves, work, family, partner, children or business, you now need to make time just for yourself. This starts with a taking good look at all the important areas of your life so that you can see which areas need some improvement. A great tool to help with this is the Wheel of Life which I have described in detail elsewhere. Whether or not you use the wheel you should divide your life up into some or all of the following areas: Work, finances, home, family, creativity, spirituality, health and fitness, relaxation, social life/friends, love and romance. Give each area a score out of ten so that you can highlight those areas that need development.
Don't be scared to get help with any weak areas or challenges. Call on your GP, maybe access a life coach or therapist. If you have financial worries get expert help from an accountant or even one of the financial charities. If you have relationship challenges then try to sort them out before they become a serious problem.
Make sure that you build 'me time' into each and every day. Get back in touch with the real you or with the you that you always wanted to be. Whether you want to grow old gracefully or disgracefully, make sure that you are doing it on your own terms.