Signs of Depression.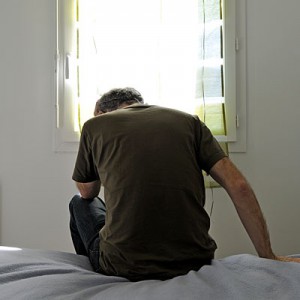 Welcome to this second part of my look at the serious issue of anxiety, depression and suicide in men. In the first part we looked at some shocking statistics and some vague reasons why there is a specific male problem. Before delving too deeply into reasons and solutions I thought it might be useful to consider just what depression is and how it particularly manifests itself in men.
Most of us have experienced periods of time when we have felt down, miserable, or depressed. This can often be attributed to a known event, cause or trigger but it does not really dominate our lives, seldom lasts long and is soon forgotten.
For some however, the feelings do not go away. The depression may continue for weeks or months or the feelings may become deeper. This can leave the victim feeling very much stuck in a rut or in a downward spiral and unable to lift themselves out of it. By this time they will feel it's beginning to affect every area of their life and even before others recognise that there is a problem, they may have feelings of guilt about it which simply fuel the deepening depression.
What is going on in your mind will start to have physical consequences and also lead to behavioural changes. Where the mind and body are concerned the problem may remain purely personal, but once behavioural changes begin it will only be a matter of time before others notice that you have a problem.
Depressed people will recognise some, most, or all of the following feelings. It becomes increasingly difficult to find joy in anything. For much of the time you may feel down, unhappy, miserable, sad or depressed and those feelings just will not go away. For some the feelings are worse at particular times of the day, especially first thing in the morning when you are facing the day ahead. You may find it difficult to concentrate on anything and you may lack motivation. There may also be feelings of guilt, even about things which have nothing to do with you. You may lose interest in social activities and start to lose touch with friends. As you become more pessimistic you may start to feel hopeless, overwhelmed and even suicidal.
These problems of the mind will often manifest themselves in physical conditions. Most depressed people have difficulty sleeping, either in getting to sleep or staying asleep. Often this results in a broken sleep pattern or the habit of waking up very early which of course leads to physical tiredness. Depression can also affect your weight in one of two ways. Some people 'comfort eat' and gain weight while others cannot eat and start to lose weight. Many depressed people also experience a loss of interest in sex.
Of course as these physical symptoms become more noticeable they are added to the growing list of anxieties so increasing the bad feelings.
As things either get worse or just go on for longer, the depression will start to affect your behaviour. This is when it is possible that others will notice a problem even if they don't recognise what it is. Your poor concentration may lead to mistakes at home or at work as you lose focus. If you start to worry about more things you may also become quieter than usual or even withdrawn. You may become more irritable than usual and you may even begin to complain about vague physical ailments such as headaches etc.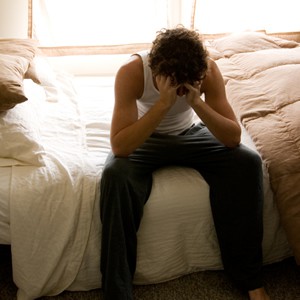 After a time, your personal hygiene, appearance and tidiness may fall victim to the depression. You may begin skipping showers, not shaving, not washing your hair or brushing your teeth. Shirts may go unironed or even unwashed. At home you may lose interest in cooking, cleaning, or changing the bed sheets.
Where anxiety features in the depression there are additional symptoms such as feeling 'on the edge' or constantly worried that things will go wrong. You may become fearful of unknown problems occurring and will find it increasingly hard to go out or to face people. Anxiety also causes its own set of physical problems which may include sweating, palpitations, breathlessness, shakiness, dry mouth, stomach churning or even diarrhoea.
So far the symptoms I have described a fairly general and although there is no specific diagnosis of 'male depression', it is quite clear that some symptoms are more common in men than in women. These include increased irritability or temper. There is often a feeling of losing control or you may increase risk-taking. There may be aggression and men are three times more likely than women to commit suicide.
In many ways it is not the symptoms of depression which are different for men so much as their attitude towards it and their coping mechanisms. These often in the long term lead to not coping at all. For many men drugs and/or alcohol become a means of self-medication rather than admitting to any problems or talking about them. Personality does not seem to be a great indicator for depression since, although shy men may be more likely to become depressed, it can also affect the strongest of men. Depression has affected many famous and successful men, even some who have famously spent all their time making the rest of us laugh. Sir Winston Churchill could hardly be called a shy man and yet he suffered deep depression which he called his 'black dog'.
It is often the classic male attitudes which exacerbate the illness. These attitudes prevent us from talking to loved ones or to health professionals and so we do not get the help which is needed. Many men feel that if they tell their partners, family members or colleagues, that these will be unsympathetic.
For too many men it is their very masculinity which gets called into question. Men can be competitive, ambitious or concerned with power, control or success. This of course makes it much harder to admit to feeling in any way fragile or in need of help. Whatever the perceived reason most men will feel that they must sort the problem out for themselves.
For some men work itself can become the coping strategy, but focusing on that can cause conflict in other areas, especially relationships.
The drug or alcohol route of course becomes destructive itself in the long run. This path can lead to addiction which can then result in unpleasant, irresponsible, reckless, dangerous, or even self-destructive behaviour.
Hopefully this delivers some understanding as to what depression is. Next time I will take a look at some of the causes of anxiety, depression and suicide in far too many men.