Or – Tell me what you want, what you really really want.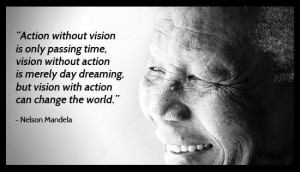 How are you doing with those New Years resolutions? This weekend marks the time of the month where statistically speaking, most people start to fail on those resolutions made just ten days ago. Resolutions are soft fluffy things that just don't survive in the real world. We need something stronger and more resilient, something in which we can engage with and have an emotional investment in. We need solid goals.
We live in a rapidly changing world which can generate a feeling of helplessness when we are not in control of our own path through the craziness! As a life coach it is my job to be your guide on that journey and the first thing we must establish are the goals, so that your journey has a destination.
To begin with the end in mind means to start with a clear understanding of your destination. It means to know where you are going, so that you better understand where you are now and so that the steps you take are always in the right direction.
-Steven Covey, The 7 Habits of Highly Effective People
Without Goals we cannot be in control of our own destiny and we will tend to drift from crisis to crisis on waves of uninspired intuition. Once we set some goals we have purpose, drive and we can make good choices. We can start to develop our own path towards happiness and fulfilment. These goals must not be vague or woolly. So often when we ask anyone what they want the first response we get is a list of what they DON'T want! We need to delve deeper and ask searching questions to get to 'what you really really want!' It is essential that your goals are challenging, achievable and measurable.
Are you in earnest, seek this very minute. Whatever you can do, or dream you can, begin it. Boldness has genius, power and magic in it. Just begin and the mind grows heated. Continue and the task will be completed.
-Goethe, Faust.
Our goals must be SMART:
SPECIFIC – This can be the most challenging part of the process, requiring deep questioning to arrive at one clear phrase or sentence which is personal and  positive so that it fires the imagination.
MEASURABLE – It makes sense that any meaningful goal must have some measurable objective, such as weight loss achieved, book written or salary earned. Some goals may not have such a clearly defined end point, but it may help to set the goal in the present tense so that you can say that the goal is achieved "When I am …" One example for a confidence goal might be "When I am speaking to people in a much more confident and relaxed way"
AGREED – Goals should be written down. They must be congruent with your personal values and beliefs and they must be morally and legally acceptable. There should be an understanding of why your goals are important to you. Of course, just setting goals will improve nothing unless there is a commitment to action. Part of the process must be a set of actions that you need to take in order to achieve your goals.
REALISTIC – There is nothing to be gained by setting goals which are not achievable. If you are a heavy smoker, very overweight and not used to physical training, would it be realistic to set a goal to compete this years Olympic Games in Rio?
TIMED – All goals should have a start date date and a finish date in order to focus the mind and fire the imagination. It may also be useful to set specific  'step goals' along the way in order to measure progress towards the end goal and fulfilment.
 I dream my painting and then I paint my dream – Vincent van Gogh
Going through life without goals is like trying to sail a boat without a rudder. You will be at the mercy of outside forces controlling your destiny for you.  How often have you heard the phrase 'Fail to plan and you plan to fail' ? Take all the time you need to set meaningful goals which have emotional power for you, then take action to achieve your dreams.