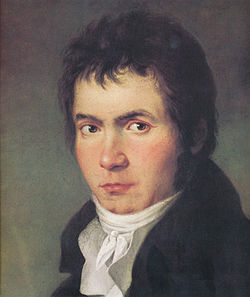 This blog post is something of an indulgence to the musical geek in me. Today marks the 203rd Anniversary of a concert given by Ludwig Van Beethoven, the nature of which has fascinated me for over 30 years.
While a student teacher in 1975 I heard Beethoven's Choral Fantasy for the first time and fell in love with it. Knowing nothing about the piece, but recognising a strong hint of the great 9th Symphony, I quickly wrote a note to my good friend Leslie Howard in London. Yes, dear reader, I am so old that I can remember writing letters, on paper, requesting information from a learned human being! Leslie is a world class Concert pianist and musicologist, and so by return I got information not only about the piece itself but about the remarkable context of its first performance.
Beethoven hired the Theater an der Wien in Vienna for a mammoth concert given on 22nd December 1808. The event lasted over four hours, consisted entirely of Beethoven Premieres and was directed by the composer himself. Conditions left much to be desired and since the heating had broken down the audience and performers were extremely cold. Despite this, and the fact that the orchestra were seriously under-rehearsed, the audience were treated to the first performances of the 5th & 6th Symphonies. Beethoven took to the keyboard for the premiere of his 4th piano concerto and there were first hearings of the aria 'Ah, perfido!' and two movements from the Mass in C. The composer then gave a sample of what the public most admired, which was his amazing ability at solo piano improvisation. Let's not forget that Beethoven was of course profoundly deaf by this time.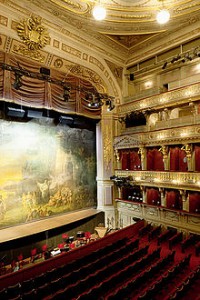 As if all this were not enough, to end the evening he pulled together all the forces present, to perform what was described as a "Fantasia for the pianoforte which ends with the gradual entrance of the entire orchestra and the introduction of choruses as a finale". The cold and exhausted audience had one more hurdle to overcome. One of the performers made a mistake which caused Beethoven to halt the performance and restart the whole thing!
Despite the difficulties it must have been a remarkable evening and I still long to hear a live performance of that one little-performed piece. The notion of giving a vocal finale to an instrumental work, casting it as a set of variations, the smooth and relaxed character of the tune itself, these are all ideas to which Beethoven would grandly return fifteen years later in his awesome 9th symphony.