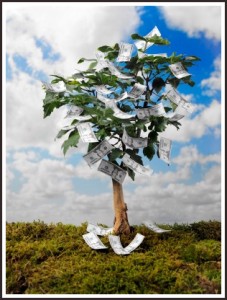 Previously, we have looked at how to gain some clarity about the reality of your personal finances. Now it's time to delve a little deeper than that in order to expose your underlying beliefs regarding money. This is important, because your beliefs may well be having a greater effect on your financial decision-making than any set of real facts regarding money.
What are some of the things that you are saying about money? What are you saying which may not be serving you well? Which of these common sayings do you use regularly?
"Money does not grow on trees."
"I'm not made of money."
"I can't afford it."
"You can't take it with you."
"It's alright for some."
"You can't take it with you."
"I don't understand money."
"I haven't got enough money"
"I deserve it."
"I might not be rich but at least I'm honest."
"I work hard, why shouldn't I enjoy life?"
Most of these sayings have a negative slant to them, so let's try to reframe them to be more positive, supportive or even motivational.  For example,
"I haven't got enough money," becomes, "I have got enough money for my needs."
Or
"It's alright for some," might be reframed to say, "What's alright for some is alright for me too."
We seem to reserve our strongest beliefs for those who are richest. What do you say about those who are very wealthy? Would you like to be really rich too? Is it OK to be rich only in certain circumstances? What does that say about your view of being or becoming rich?
What does money mean to you? Try taking a sheet of paper and brainstorming this by just writing words which reflect your beliefs about money.
MONEY =        freedom                      choice              consequences              fun
Sacrifice          pleasure                      pressure          impact on others
decisions
Does thinking about money give feelings of pain or pleasure?
Next time we will try to pin point which financial personality type you are, by uncovering your deep seated FEELINGS about money.