Getting help and helping yourself.
In this final part of my look at anxiety, depression and suicide in men, I intend to cover what you can do once you have recognised that there is a problem. In the first four parts I tried to give an evidence-based overview of the issues. While this final part is also based on my research of the subject, it is also a quite personal view based on my own experiences.
It will surprise many who know me to learn that I have been suffering from depression for the past two years. I spent most of that time trying to convince myself that as a life coach I should be able to talk myself out of it. I finally sought the help of my GP just two months ago and now wish that I had done it a lot sooner.
Men need UHT.
No, I don't mean UHT milk. I have stolen the acronym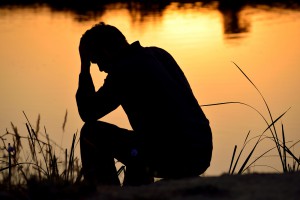 to explain the process which I believe all depressed men need to go through:
First you need to understand what is happening. You are not weak or less manly. You have certainly not failed anyone. Your depression is most likely to be the result of chemical changes in your brain. It could also be the result of your efforts to cope with life in an increasingly demanding and stressful world or it could be a mix of both of these elements.
Once you understand the nature of your depression as an illness it should be easier to seek help. If you broke your leg or contracted some disease you would seek professional help. Depression should be seen in exactly the same way and it is nothing to be ashamed about.
Talking about your feelings is without doubt the single most important step on the road to recovery. I would say that the two most important people you need on your side will be your partner or a close friend and your GP. It is important to talk openly and honestly with both of them.
My partner had no idea that I was suffering with depression until I told him two months ago. Since then he has been an absolute star and way more supportive than I had expected. I do believe that even if they are not directly part of your recovery plan it is wise to have somebody who is at least aware of what is happening. When you are ready to ask for professional help, put some thought as to which doctor in your practice you can see most regularly and who you feel most comfortable with.
Be aware that doctors are often slow to diagnose depression in men simply because the patient is more likely to describe his physical symptoms and not his feelings or anxieties.
Self-help
There is quite a lot that most men can do to help themselves. None of the following things are a cure and they should not to replace medical help.
Talk to someone. Tell somebody how you are feeling and what is happening. This is especially important if there has been any kind of trauma such as a bereavement or a relationship split which has caused a major upset in your life.
Sleep. For many people with depression this can be a great cause of anxiety. You need to rest and get as much uninterrupted sleep as you can. If you can't sleep don't try to force it. Do something relaxing that you enjoy. Try reading, listening to music or the radio but avoid watching television if possible. You might also get some positive results from light exercise, massage or even some light yoga.
Treat yourself. Try to build in some regular time in your daily life to do something which you really enjoy whether it be a hobby, exercising or simply reading a good book.
Drinking is not the answer. Alcohol may make you feel better for a short while but in the long run it will increase your depression. Of course, the same applies to illegal drugs, particularly amphetamines, ecstasy or cocaine.
Try to get out of doors and do something active when you can. This is not just for the sake of your fitness but it can help to distract you from depressing thoughts and feelings and will also help you to sleep better.
You should try to eat a balanced diet with plenty of healthy nutritional foods even if you are not feeling particularly hungry. Depression can lead to not eating and therefore missing out on essential vitamins, or it can lead to binge eating or the consumption of junk food causing weight problems.
Take a look at your work load. Can you set yourself more realistic targets? Can you structure your day or your week to be kinder to yourself? Are you the kind of perfectionist who tries to lose yourself in your work in order to avoid the real world?
Get away. Taking time out for yourself can be hugely beneficial whether it's getting away from your normal routine for a few hours or better still a few days. Check out those weekend breaks.
There are many books and websites where you can read about depression. Sometimes researching medical conditions online can appear to make things worse than they really are, but in the case of anxiety and depression these sites and books can be very beneficial. Not only can they give you a variety of strategies to use, but they may also help friends, relatives or colleagues to understand what you are going through.
Sometimes when you are depressed, self-help is not so easy. It may be beneficial for you to seek out a support group where you can talk to other men in similar situations. Your GP may be able to point you in the right direction or you may find local organisations who can help with this.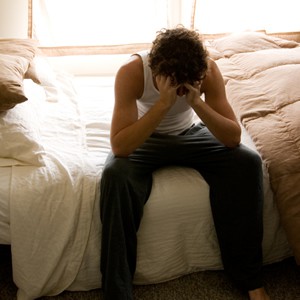 Even if you engage in any or all of these self-help strategies you should at some point see your GP. Be completely transparent and honest since this will help the doctor to deliver the best help for you. Depending on the severity of your illness the GP may suggest one of three basic options, or a combination of these.
Self-help: this may be in the form of an exercise program, reading, or online therapy course.
Talking therapies, such as psychotherapist or counsellor.
Medication
Many men dislike the idea of psychotherapy or antidepressant medication but I have found both to be highly effective and neither has to be permanent.
Of course your GP is also best placed to know if your depression is linked to any physical condition which is often the case.
Self-harm and suicide are tragic consequences of untreated depression. As we have already seen, men are three times more likely to kill themselves than women. It is also more likely among men who are separated, widowed, or divorced. Suicide is much more likely among men who drink heavily too.
This is where the support of a friend, colleague, or partner may be vital. If you suspect that somebody is harbouring suicidal thoughts, then ask him. You will not be putting the idea into his head, but you may just save his life. If your depressed man talks, then listen and take what he says seriously. There is nothing more demoralising than a man plucking up the courage to talk to somebody only to find himself not being believed or not supported.
Finally, maintain hope. Things will get better and many men come out of depression much stronger than they were before. You may even have a better understanding of yourself, of relationships and of stressful situations. It is true that some people continue to suffer periods of depression but they become more resilient and learn to live with them. Remember that anxiety and depression are very common you are not alone and you can get help. Just ask for it.
As for me, counselling and medication are helping. I have to accept that some of the root causes of my depression will not go away overnight. What I am learning to do however is to manage the way I feel about them. For those of you who know me by the positive messages which I post on Facebook every morning, you should know that they are helping me as much as they are my readers. Yes, things are getting better.