Two days ago, on 6th August, my first tweet of the day included a birthday greeting to the World Wide Web. Is it really only 20 years old? The internet itself had already been around for over 30 years when the web was invented, but it was a tool of academia and the military. It was neither accessible nor comprehensible to the outside world.
After much hard work by a team of experts, a 36 year old physicist named Tim Berners-Lee published the first ever website on a computer at the CERN facility in Geneva, Switzerland where he worked. On 6th August 1991 the world changed forever. The website was info.cern.ch and the first web page, http://info.cern.ch/hypertext/www/theproject.html, was a very basic set of links to technical information about the project. The original page no longer exists, but a 1992 copy of it can be found on the World Wide Web Consortium website: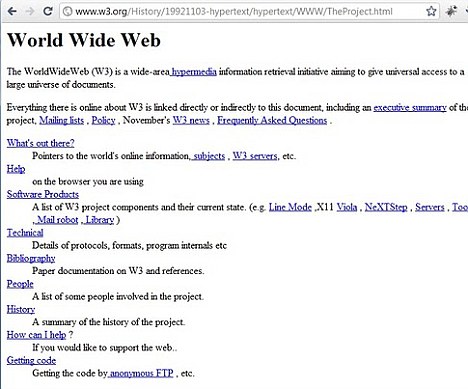 The inventor, now Sir Tim Berners-Lee, could never have predicted the way his baby has grown over the past 20 years. The Web permeates to every corner of the world and every facet of human behaviour. It took about 2 years before the web entered the public domain but its growth since then has been staggering. We tend to take for granted that the World Wide Web is now the place where people meet and engage, knowledge grows rapidly and creatively and businesses trade and expand. We see revolutions rise by the power of the web and of course we watch animals, children and drunks do the funniest things!
The web has many detractors and we are always being told that it is about to collapse under the weight of spam or porn residing on it. However, only 12% of websites are porn and 25% of searches are porn related. Legitimate (?) use far outstrips this. I think we can take great comfort from the fact that Sir Tim is still actively involved in nurturing his baby and he remains excited about its future.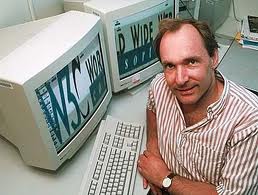 Many are worried that a few large companies are dominating the web and even attempting to ring fence parts of it for their own personal gain. The history of the web, however, tells us that nothing is certain. One of the best features of the web is the speed at which new things can come along and very quickly change what has gone before.
It may appear that Google dominates, but there is always the rumble of the next big thing about to march over the horizon. It is a sobering thought that there are still some 6 billion web pages in Mandarin which are as yet not indexed by the search giant. In China the search engine of choice is not Google but Baidu which accounts for 75% of all searches. The 'Twitter of China' is a relatively new site called Sina Weibo which accrued some 40 million users in its first 2 months. The online population in China has so far this year risen by 6% to 485 million, but some two thirds of the population have yet to go online!
What of the future? It is impossible to predict what will happen on the World Wide Web over the next 20 years or beyond. Will 'Apps' or the 'cloud' be the vogue? One certain development will be the increased use of web addresses using other languages and other alphabets. The ability to access the web using languages other than English will open it up for a vast, as yet unconnected, portion of the global population
Developments in technology will allow the web to become ever more mobile and to be accessed by devices far removed from any traditional computer. Interestingly it appears that web developments in China tend to be about creative use of the web itself and not about any particular technology.
The biggest question being debated now is whether or not the Web is changing the way we think and behave. Is it changing the way our brain works? Are we moving away from learning a lot of factual information because we can always find it on the web?
The simple answer is yes! Technology has always had a hand in changing the way we think and behave. I would argue that every significant change in human development has been triggered by the development of new technology. Early on it was fire and the wheel. Then it was Roman roads allowing the spread of civilisation on the new 'network'. Of course there was the printing press too. What defines us as human is our ability to reflect and to adapt; developing new skill sets to cope with these changes and to take advantage of them. We may no longer need to learn lots of factual 'stuff' but we need to develop our skills of review, critique and creativity.
One thing we can be sure of is that when we come to mark the web's 'coming of age' a year from now we will be learning to use web based tools not even invented yet. Will I be writing a 21st birthday blog in a year's time or will I have moved on to a newer way of engaging with you all? Whatever exciting new tool/app I use it will be dependent on an even bigger World Wide Web.