Last December a Tweet from Stephen Fry alerted me to the wild idea that was coming together in the UK publishing domain. An organisation calling itself World Book Night was planning to give away one million books around the country. To achieve this they were looking for 20,000 givers to apply for a share of the books from a list of 25 titles. My choice was the wonderful Cloud Atlas by David Mitchell. The application was successful and I duly collected my boxes of books from our local Waterstones bookshop.

Books and reading are, in the words of Dorcas Lane, "my one true weakness". I have always been passionate about reading, whether for fun or to learn new things. Of course those outcomes often go hand-in-hand in a great book.
Fast forward to last Friday the 4th of March. 10,000 people filled Trafalger Square for the launch of the inaugural book night, which was to take place on Saturday. We stood in the freezing cold whilst Graham Norton introduced us to one famous author after another, who read sometimes from their own works and sometimes from the works of others. My personal favourites were Phillip Pullman's glorious reading from his book Northern Lights, Margaret Atwood's moving reading from her book The Blind Assassin and Alan Bennett's inimitable reading from A life Like Other People's. At the end of a wonderful evening we each gave away the first of our books, which resulted in a memorable scene with complete strangers giving and receiving books in a great atmosphere of smiling and sharing.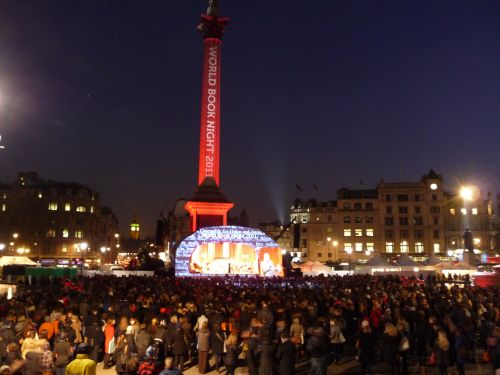 This was at the heart of the whole project. The sharing of books and the willingness to give and receive new knowledge and varied emotions relayed through the printed word. I have always believed that the writing process is not complete until the reader engages with the text on the page and brings the book to life.
"Closing libraries is child abuse."
-Alan Bennett at Trafalgar Square.
The publishing world is on a knife edge now, with reading technology and internet marketing changing  the face of literature forever. I fear that the publishers have yet to grasp the potential for good in this and to drive the change forward in a positive way. Young writers and new works are emerging at a frightening pace. Young people must be encouraged to embrace reading and to develop a love for books in whatever form they represented.  There is a real danger that 'commercial' writers and their books will dictate the quality of the literature produced. Current trends in this are not always for the best,  in my opinion.  I am heartened to read many examples online of young, would-be writers sharing their work and learning their craft the hard way. I will add some links at the end of this blog for you to take a look at their efforts.
Back to World Book Night itself. On Saturday I set off for my local health club with my books all numbered and ready to give away to all the gym goers and staff. Many people turned up because they had read an article which the local newspaper had printed about what I was doing. Again, there were so many smiles and lots of grateful and supportive comments.
Remember, a book is for life, not just for World Book Night. Read your books and pass them on with a little of the joy you may have found in them. Too busy to read? Make time for it. It is a great way to relax, to feed your mind, and to let you imagination run free.
READ more and sign up for next year: www.worldbooknight.org
READ Margaret Attwood's view of World Book Night: http://www.telegraph.co.uk/culture/books/8361211/Margaret-Atwood-Hurrah-for-World-Book-Night.html
READ the work of up and coming writers/reviewers:
(This is a good place to start)
READ A BOOK