Now that we have looked at whom to FOLLOW, it's time to consider our FOLLOWERS and how to manage them. If you've been using Twitter for any length of time, you will have already started to follow a few people or organisations. You may also have looked with envy at some of the 'celebrities' you are following and the huge numbers associated with them.
I know that these are exceptional examples, but even so: Stephen Fry is heading for a following of 3 million whilst he chooses to follow about 53,000 of them. How many tweets can he be expected to read every day, let alone interact with? President Obama has close to 9 million followers, of which he follows 700,000. Really? Do you think he is sitting in the Oval Office engaging with the tweets of all those people?
It is useful from the start to have a clear strategy to help you to decide who to follow. Many 'old hands' on Twitter would have us believe that the only ethical strategy is to FOLLOW-BACK everyone who follows us. Yeah, right. Barrack Obama following 9 million tweeps makes a lot of sense. When you actually look at how these people manage their accounts, we soon see that the bulk of those they are following are confined to a general Twitter stream that is never looked at. Where are the ethics in that?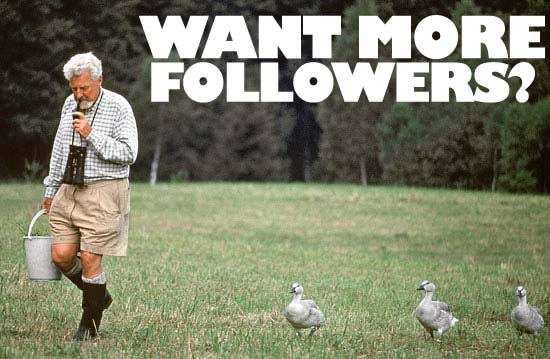 Let's not forget that Twitter is SOCIAL MEDIA, and as such we surely want to build a community with whom we can ENGAGE and INTERACT.
When deciding who to follow, my strategy is very simple. It will come as no great surprise to my regular readers that I apply my FIRE principle here too. I want to follow people who are Fun because they brighten my day. I also want to read Interesting tweets on a whole range of different topics. Otherwise I want to read tweets that are Relevant either to me, my life or my business. Finally I want to follow people who are Experts in their chosen field. By applying this strategy I know that I am building a small but valued following who are adding value to my life, as I hope I am to theirs.
Yes, I do follow some people who are not so much engaging as BROADCASTING. That's because they broadcast good CONTENT, so the FIRE filter is happy. I follow those who I respect as gurus in their field e.g. Social Media. A word of caution about gurus, however: I get to decide who they are, not them! If anyone declares themselves to be a guru then they are likely to be suffering from terminal vanity and not worth the follow.
My measure of value in all things is 'have I learnt something'? From Twitter I am learning new things every day.
Some broadcasters are simply pushing themselves, their products, or their angst, so they fail the test of FIRE. These people are using Social Media for self-promotion and forgetting to be, ah yes…. SOCIAL!
I would recommend regular spring cleaning of your FOLLOWED list. I will happily UNFOLLOW anyone who has:-
No picture – the 'egg heads'
No profile
Not tweeted for a month or more
Spammed
By spamming I mean anyone who
Sends meaningless tweets
Wastes any of their 140 characters on frequent profanities (we all have special occasions)
Attempts direct sales/marketing
Buys lists of followers – they are easily spotted.
If you are looking for likely FIRE worthy followers, then start by looking at the FOLLOW lists of those that you already follow. Also take note of anyone who they choose to RETWEET.
Of course you are now well on the way to the first 100 valued tweeps in your interactive and engaged community. You might be starting to wonder how you're going to cope with all this Fun, Interesting, Relevant and Expert information streaming in. There are many third party software applications to help with this. My personal favourite is Tweetdeck…but more of that next time!