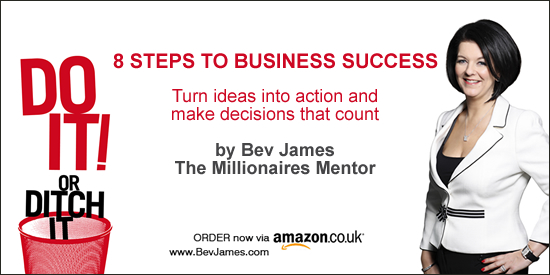 Today sees the publication of a book written by Bev James, a good friend and mentor of mine. I was proud to be asked to endorse the book prior to publication, and I found it to be genuinely great in its content and its philosophy. Bev truly cares about helping people to achieve their business goals and her book is a perfect example of the application of her "Coaching heart, Commercial mind" philosophy. If, like me, you are attempting to build a solid business from a set of creative ideas, then Do It! or Ditch It is just the kind of guide book we need. It offers a fresh approach to business success from someone who has made success her business. Why 'fresh'? What makes it stand out from the plethora of business books on the shelves? Do It! Or Ditch It is a real how-to book and by following Bev's no-nonsense approach, any business owner could take their idea and grow it into a solid success.
The book sets the scene with some very pertinent, factual information. This creates a context for the book, as Bev tells us "Do It! Or Ditch It was born of a frustration of seeing too many good business ideas go to waste while bad ideas take up valuable time and resources – and from a strong desire to show that we are always in control of our own decisions and can choose to make things happen if we wish. The approach can be applied to all situations."
To begin with, Bev highlights the need to develop the right mindset for running your own business, setting the right goals and then committing to those actions needed to reach them. This book is all about taking action and never letting life 'just happen'.
The book is presented in two parts, the first of which is called 'How to develop a Do It! Or Ditch It mindset'. This takes us through 5 powerful but easy to follow decision-making tools. Here Bev applies her coaching heart and shows how to gather the mental resources needed to prepare any entrepreneur for success. Part 2 is called 'Turn ideas into action and make decisions that count', which guides the reader through 8 steps to business success. Now it is Bev's commercial mind which brings clarity to the daunting process of bringing an idea to fruition as a well-planned, carefully structured and solidly implemented business.
Bev's approach is fast paced and anyone who has met her will recognise her shoot-from-the-hip style on every page. Definitely not a ghost-written celebrity book here! Bev's writing is direct and its time is now, with more people than ever trying to turn their own ideas into working businesses. Alongside the book itself Bev has launched a great website full of additional business tools and ideas at www.bevjames.com You have the opportunity to sign up for daily business tips and also to download useful planning materials for free. Whatever your idea, this book will take you by the hand from one stepping stone to another to reach your business goals. Of course at the end of the day only you can decide to Do It or Ditch It.