Mindful Monday: Autumn (with apologies to John Keats).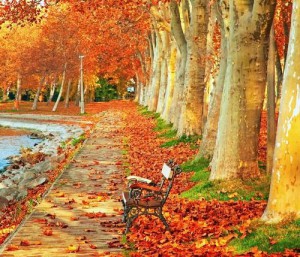 After a busy Summer season, Autumn/Fall is the ideal time to slow down and still our minds. In a feast for the senses we are made aware of our surroundings. Rich leaf colours or flocks of migrating birds flood the sight. The sound of leaves underfoot while frost glistens on the grass and mist pools in hollows and along waterways. All these things call us to be mindful of our surroundings and our place in the here and now.
Mindfulness not only helps to keep us grounded but it has proven benefits to both mental and physical health. Simple techniques can teach us to focus in on the present moment rather than shutting it out as more traditional meditation might do.
Perhaps the simplest of these techniques is the walking meditation. Just take a leisurely stroll even if you only allow an extra few minutes going to or from work. Be aware of those things which stimulate the senses. What is it which catches your eye or triggers some memory or sensation? Don't try to change these thoughts, just observe them and be aware of the feelings that they create in you.
Another simple technique involves using just one of your senses. While you are out walking or even when sitting relaxing quietly, be aware of all the sounds around you. Outdoors it may be the sounds of rustling leaves, tree branches moving in the wind, birdsong or flowing water. Try shifting your attention just to the area in front of you. Now to the area behind you. Try shifting it to the right and then the left of you. How do the sounds change?  Of course these natural sounds change in time and so are different at any one moment. This is a great way to attend to the present moment before it moves on to the next.
Try these simple things and let me know how you get on.