This blog series has generated many questions from readers and I have enjoyed responding directly to most of them. Many of the questions are similar, and so it seems sensible to cover these topics in a further blog posting. Today I will look at two recurring themes. One is about how to edit, or add text to a retweeted message. The other is about the use of the hashtag, more specifically the #ff which has generated more comments and questions than any other aspect of TwitterI have mentioned to date.
Editing Retweets
In Twitter Thursday #2 I wrote about the use of the RETWEET. This is a simple way of sharing a message delivered to your timeline with all of your FOLLOWERS as well as the person who originally sent it to you. Just 2 button clicks and it's done. Occasionally, however, you get the urge to add a few words in support of the message. You will quickly find that it is not possible to edit the message during the standard retweet process. But there is a way!
Rather than clicking on RETWEET, highlight the message and copy it. Next you need to paste the message into your 'What's happening' text box at the top of your timeline. It will appear as would any message you were going to tweet yourself, and as such it can be edited. First you need to type at the start of the message 'RT<space>@Twitter name e.g. RT @timorahilly. This properly labels it as a retweeted message. Now you can add your own words to the message and click the Tweet button.

Of course you are still limited to a total of 140 characters. Don't be tempted to delete the name of the originator to gain more characters. For this same reason, if you want to have your messages retweeted, a good tip is to keep your character count below a maximum of 120. This allows others to retweet your messages without having to edit them.
Follow Friday (#ff)
I wrote about #ff and other uses of the HASHTAG in Twitter Thursday #4, but have found myself replying to many questions and comments about it since then. First of all, do remember that nobody owns hashtags or has any control over their use. You can start your own hashtag at any time. Just use the SEARCH tab to see if it is already in use.
For the history of the #FF I refer to Twitter expert @markshaw who tells me that it began life back in January 2009 when Micah Baldwin proposed the use of 'Follow Friday' as a tool for those unsure of whom to follow. His idea was that a good way to start might be to follow those people who were recommended by others.
The theory is great but in practice, over time, #ff has lost a lot of its meaning and all too often I see the hashtag followed by a whole list of followers. As such I believe it is being misused! Lets get back to the spirit of Follow Friday. Be a real advocate to your valued followers and list them because you have good reason to recommend them to others. In each tweet, just mention one or two followers and give a clear reason why they deserve your advocacy. Here are some examples of my own #ff :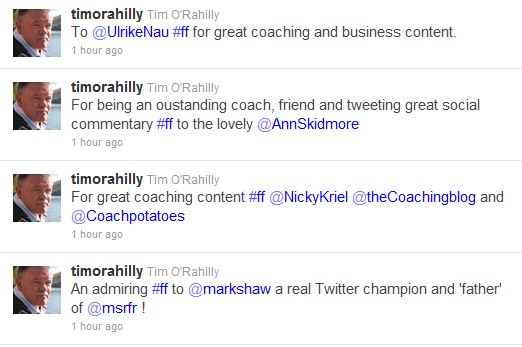 How do you choose who to list? That's easy when you apply my FIRE principle. If their tweets are Fun, Interesting, Relevant and/or Expert then pay them the compliment of a well-deserved #ff. Give yourself the satisfaction of a positive and upbeat end to the week and have a great weekend.