Many people have mixed feelings about the idea of meditation. Some see it as a form of escapism where you sit and empty your mind and think of nothing at all. Others view meditation as a mystical, quasi-religious activity. I was originally a sceptic and I still believe that there is a lot of misinformation about meditation and its uses. Mindfulness meditation however, has been studied closely for around thirty years now and has been well tested in clinical settings.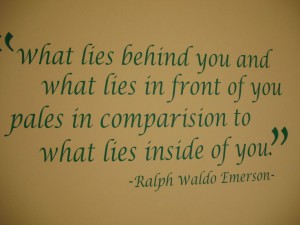 Although rooted in the Buddhist tradition, Mindfulness meditation can be used in a completely secular way without any reference to mystical behaviours. Far from training you to think of nothing, Mindfulness meditation teaches you to pay very careful attention to whatever it is that you have chosen to focus on. The first subject is usually your breathing, but once you can experience this attention you can move on to any of your other senses or body parts. As the technique becomes easier you can also begin to focus on your feelings and emotions.
There are two distinct types of Mindfulness meditation: Formal Meditation and Informal Meditation. The second of these may be the more useful technique for long term daily use. I would however suggest that you start with Formal meditation in order to train the mind in the habit of meditation.
Before embarking on any explanation of the two forms I want to clarify my use of the word 'practise' in this context. Setting aside all confusion about the use of 'practice' or 'practise', use of the noun or the verb, or the differences between English or American versions, I am more concerned with the meaning of the word. Yes, at first we will need to practise meditation in order to make the practice of meditation easier. In the first instance we are using the word to imply repeated training to reach perfection in the way that we do something. In Mindfulness meditation there is no requirement to achieve perfection. It is the quality of your experience which matters most. Therefore in this context I am using the word to describe the ongoing use of a technique where you actually engage with your own experience of the meditation.
Formal Meditation
In order to engage in formal meditation you will need to set aside some time to carry out the activity. Only by taking time out from your everyday life can you become more attentive to your own mind. Over time this will train you to be mindful for longer periods of time and to focus more deeply on any habitual behaviours with greater curiosity, tolerance and kindness towards yourself and your current experiences.
Formal meditation is best practiced sitting alone in a quiet,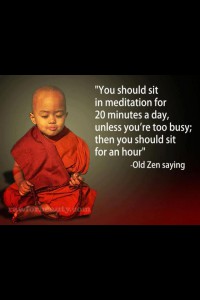 comfortable place with your eyes closed. As previously mentioned it is usual to start by giving attention to your breathing. Focus on how your abdomen moves in and out as you breathe, or how the air flows in and out through your nostrils. Of course other thoughts will pop-up in your mind but you simply return to focusing on your breathing. Try to do this for 10 minutes each day to begin with and the more you do it the easier it becomes to really become attentive to your breathing. Once you are satisfied that you can regularly focus in this way, then you can expand your awareness to include thoughts, feelings or other actions in a mindful way. Formal Mindfulness meditation should be seen as mind training.
Informal Meditation
This is a very different style of meditation where you need no special time or place to enter the meditative state. You can focus your attention in a mindful way while you are carrying out your normal everyday activities. Whether you are walking the dog, cooking the family dinner, or pushing a trolley around the supermarket you can enter the meditative state at any time and in any location. This further trains your mind to stay in the present moment focusing your attention on the here and now instead of drifting back into the past or forward into the future. Informal Mindfulness meditation gives you the means to rest in a mindful state at any time and in any situation.
Now, at the start I mentioned research and those of you who know me will know that I am very much a science guy. If I am to believe in something like Mindfulness meditation I need to at least know a little about how and why it works. Mindfulness has been the subject of study for some thirty years now. It is however in the last decade that advances in imaging techniques have enabled an explosion in neuroscience and have allowed researchers to more accurately observe what the brain is doing during meditation.
In November 2011 a group of researchers published a paper in Perspectives on Psychological Science 6 . Here they suggested that Mindfulness meditation affected some components of attention regulation, emotional regulation, body awareness and changes in our perception of self. The group went on to say that neuroimaging techniques suggest that there were observable "changes in the anterior cingulate cortex, insula, temporo-parietal junction, fronto-limbic network and default mode network structures within the brain".
Don't panic. You have not wandered into an episode of Bones, nor do you need to know this stuff. I am simply using this research exemplar to show that Mindfulness meditation does seem to cause observable changes in the brain. It is these kinds of neuroplastic findings which are now feeding into much more in-depth research relating to treatments for mental health disorders.
The current clinical point of view would appear to be that Mindfulness meditation is more effective than some supportive therapies  but perhaps not as effective as traditional Cognitive Behavioural Therapy. This of course assumes that there is some existing condition which needs treatment. I cannot help thinking that just like exercise or healthy eating, making Mindfulness meditation a part of your everyday life will contribute to the mental and emotional aspects of a healthier you.