In the first Mindful May blog I looked at why I am a positive thinker.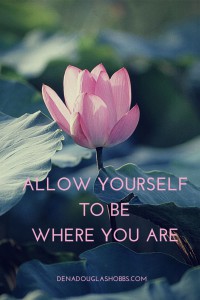 In this second posting on that theme I want to look at mindfulness as an important element of that. If you follow my ramble through this coming month of positive musings, you will see that I do not subscribe to any one philosophy in isolation. Instead I draw on a lifetime of self development and pull together a variety of disciplines which help me not just to cope with the modern world but to live in it from day to day. I also firmly believe in moving forward using action oriented goals to work for a better future.
I do not subscribe to the way that mindfulness has been marketed in recent years as some kind of self help commodity. It is not the banal, all encompassing therapy that some practitioners would have us believe. It is no surprise that some critics have labelled it 'McMindfulness'.
So what is mindfulness? My preferred definition was coined in 2009(Zgierska) as "the intentional, accepting and non-judgmental focus of one's attention on the emotions, thoughts and sensations occurring in the present moment". The word itself is actually derived from the ancient Indian word sati meaning  awareness, attention and remembering, and it is an essential element of Buddhist practice.
In this context, awareness is that aspect of being human which makes you conscious of your experiences. Awareness is what makes things actually exist for you. This awareness is then channeled by attention. This is the element of mindfulness that can be trained so that you are able to sustain your attention however and wherever you choose. The term remembering in this context literally means 'to be mindful of' (Latin, re = again and memorare = be mindful of). It is about remembering to pay attention to your experiences from moment to moment.
The practice of mindfulness is now being employed by psychologists to help with a variety of mental and physical conditions. These include stress, anxiety and obsessive-compulsive disorder. I've seen mindfulness wheeled out as a 'cure' for depression and for drug-addiction. It is not. In these particular cases, what mindfulness seems very good at is preventing relapse.
It would be fair to say that there are as many definitions of mindfulness as there are scholars studying it and for that reason the results can be somewhat subjective. Historically, mindfulness is associated with Buddhism and certainly the training has centred around mindfulness meditation. I do believe that this has an important role to play. However, the association with more esoteric beliefs and even religion may put some people off and put the benefits of mindfulness beyond their reach.
In order to make mindfulness more accessible to all, especially within the field of psychotherapy, researchers have sought to interpret the term into a more measurable form. David S. Black (2011) arrived at three possible domains for mindfulness which might make it more acceptable:
A trait. a dispositional characteristic (a long lasting habit) which enables someone to easily enter a mindful state and to sustain it.
A state. this is an outcome such as being in a state of present moment awareness (usually as a result of mindfulness training).
A practice. This being the actual practice of mindfulness meditation.
So we see that the practice of mindfulness can be perceived as paying attention in a very specific way, as follows:
Paying attention: Whatever you choose to be mindful of, you must pay attention to it.
In the present moment: Grounding yourself in the here and now by being aware of the way things are, as they are, at this particular moment.
Non-reactively: We are conditioned by learning and past experiences to react to anything that we experience. This reaction is automatic and we have little or no choice in the matter. Mindfulness trains you to respond to an experience rather than react to it. Response is a much more considered and deliberate action.
Non-judgmentally: Past conditioning also leads us to judge our experiences as good or bad. We either like a thing or we don't. Mindfulness removes these personal filters and allows us to see things as they are, without judgement.
Open-heartedly: This is probably the domain of mindfulness which many have difficulty with when we say that mindfulness is not just about the mind but about the heart too. Importantly mindfulness looks at our emotions and so this is as good a label for that as any other. Being open-hearted in this context simply means bringing warmth, compassion, friendliness and kindness to your experience.
I've found many overlaps between mindfulness and other philosophies and disciplines. This is especially so with Cognitive Behavioural Therapy (CBT), Neuro-Linguistic Programming (NLP) and other 'talking therapies'. In the blog posts which follow I will look at a variety of tools and practices which I have found conducive to a positive outlook on life and a ready smile.