Guest Blogger: Safaa Aldulaimy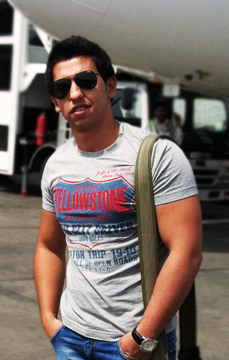 This was the main concept of the recent TedxBaghdad event. TED (Technology, Entertainment, Design) is a well-known global organisation that is spreading around the world. TED is now in 98 different countries and it is getting even bigger every day. The theme of the global TED is 'Ideas Worth Spreading' and the aim of this event in Baghdad was to bring inspiration and hope to the community, focusing on remarkable stories, and creative people and leaving Iraq with hope for a brighter future. The X means that this is an independently organized TED event, and for those who attended it was a life changing experience, and independently Royal.
I had the pleasure of attending this event on 12/11/11 along with 600 other delegates from different countries and cultures. There were people from Holland, USA and many other countries. It was amazing to see 600 young Iraqi people, sharing the same goal of building a new future for Iraq. We spent 8 hours being filled with hope, talent, inspiration and love.
The event featured so many impressive presentations; in fact they were too many to write about in just one blog, so I will mention some of the best talks from the event, and some of the exceptional speakers who delivered them.
First of all I must mention the remarkable person who was the creator of all this, Dr. Yahay Alabdeli. His dream is to bring inspiration to the Iraqi people. Living in Amsterdam Yahay always wondered how to make a worthwhile contribution back in his country. Yahay worked hard to get the license to bring TED to Baghdad and he describes  how he couldn't believe his eyes when he saw the email of approval. He said "This can't be true. I had a black out. I had to print the e-mail, because I couldn't see clearly. I closed my eyes and visualized what would come. It was a life changing moment. I told my wife: I'm going to do this."
Next we have MANHAL AL-HABBOBI, an Iraqi architect. His rendering of the General Secretariat for the Council of Ministers in Baghdad was chosen from the entries of over thirty world-renowned architects to win the WAN Award 2011. Manhal always had a passion for the art and beauty of the Mesopotamian civilization and he told us the story behind his motivation for his great achievement.  " I was in Italy when I heard about a massive series of bombs in Iraq. I was very sad and devastated.  I almost lost hope, and then my friend's 6 year old daughter came to me and said, Don't worry, you will recover, because Mesopotamia is 5000 years old!".
Next I must talk about the very impressive story of American Philanthropist, JEREMY COURTNEY, the Executive Director and co-Founder of the Preemptive Love Coalition. The goal of the coalition is to help Iraqi children with heart disease.  Jeremy started raising the money from selling an Iraqi father's handmade shoes and he has now helped fund lifesaving heart surgeries for 180 Iraqi children. Jeremy puts his whole idea in few profound powerful words, "Violence unmakes the world, Love makes the world, Love unmakes Violence"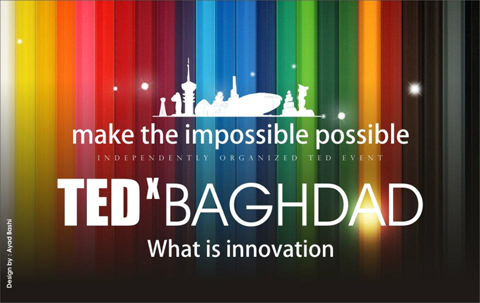 Another great story is ALI MAJID, a plastic surgeon based in Baghdad. Dr. Ali was affected by a medical case that made him determined to do something about the challenges he was facing. He invented a simple but very functional device to help overcome the problems and difficulties faced in oral surgery.  This device is now working properly and while still under development, he has high hopes that it will soon be in use as a life changing invention.
Having people from other cultures in the event moved something in me. I wanted to know their opinions and hopes for Iraq and what they thought about it all, so I talked to some of them. They all had positive thoughts and hopes for my country, and they were impressed by the work and talent of these Iraqi people and by the efforts they had put into this event.
I've always had faith in Iraq, and in its people, but now I am very sure about it. I know that Iraq will soon be a center of knowledge and optimism once again.  This whole thing made realize that I am not alone in this belief and that there are others wanting Iraq to be a place of peace again.
It is time to show the world that young people are not as some see us. We can work miracles, and this is a message that we want to send to the world. Whatever you think of us and whatever happens between us, we will always strive to make the impossible possible, and we will always work together full of hope for Iraq.
Saffa Aldulaimy, 13/11/11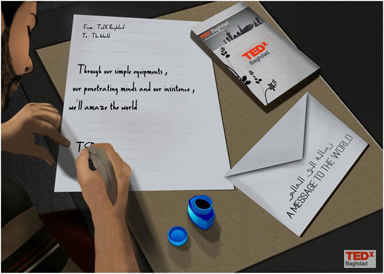 I am both proud and delighted to feature another guest blogger from among the remarkable young men that I wrote about in my September posting 'Young People: Our Promise for the Future'. Safaa has recently graduated from university in Damascus, Syria and now he is back home with his family in Baghdad. Last week it was clear to me that he was getting excited about the TED event but that was nothing compared to his bubbling optimism at the end of it. Safaa said that he wanted to write about the experience and so I asked him to consider contributing a blog here. I was moved by the result – so full of hope and optimism for the future of his country.