Since I first started this blog series, I've been asked many questions about the coaching process. One recurring theme in those questions has been 'How do I choose my goals?' or 'How do I know which areas I need to work on in our coaching sessions?' To answer these concerns, I'm going to look at a tool which I like to use with new clients early in the coaching conversation.
It's called the 'Wheel of Life', and is a simple but effective tool which can quickly determine the level of balance (or lack thereof) in your life. This will also expose those areas which are less balanced, and which can be focussed on during coaching.
The Wheel of Life is probably the most widely used of all coaching tools. It has been adapted into many forms. The version I will use here is a generic wheel which you can use at home to achieve quick and useful results.
We will take 8 aspects of your life to measure on the wheel. In no particular order, they are:
Career (e.g. work, business, school/university)
Money (personal finances)
Health/Fitness
Friends and Family
Relationships/significant other (partner, spouse or single status)
Personal Growth (education, development, ambition)
Fun and Recreation (leisure, hobbies, vacations)
Physical Environment (home, office/workspace, desk)
These can be changed to suit the individual or circumstances. Occasionally clients like to add or even replace some headings, for example with 'Creativity' or 'Spirituality'.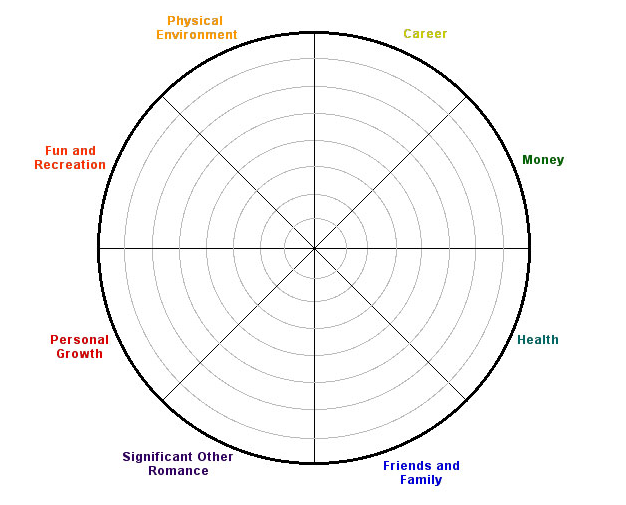 Draw your wheel as shown here, or e-mail me for a blank copy. Whatever version you prefer to use, it should have 8 'spokes' and 8 segments. The spokes need to be numbered from 0-10, with 0 at the centre and 10 at the outer circle, so that the whole diagram forms a series of concentric circles. Now fill in the labels for each segment around the outside, and you'll be ready to begin!
This wheel is a measure of your level of satisfaction with each of these areas. Grade your yourself in each area according to how satisfied with them you are right now. be honest with yourself and you will end up with a good snapshot of your own life balance as it is now.
Look at the wheel you have drawn and ask yourself a few simple questions. How round is your wheel? How large is it? How bumpy a ride will your wheel give you? Is a large or a small wheel more stable? Which will be knocked off course most easily?
The really important part of this exercise is what you now do with your wheel. You should look at those areas where you wish to improve your level of satisfaction. Begin to think what you might do about it and set some action Goals.